What is it Like to Fly the Diamond DA62?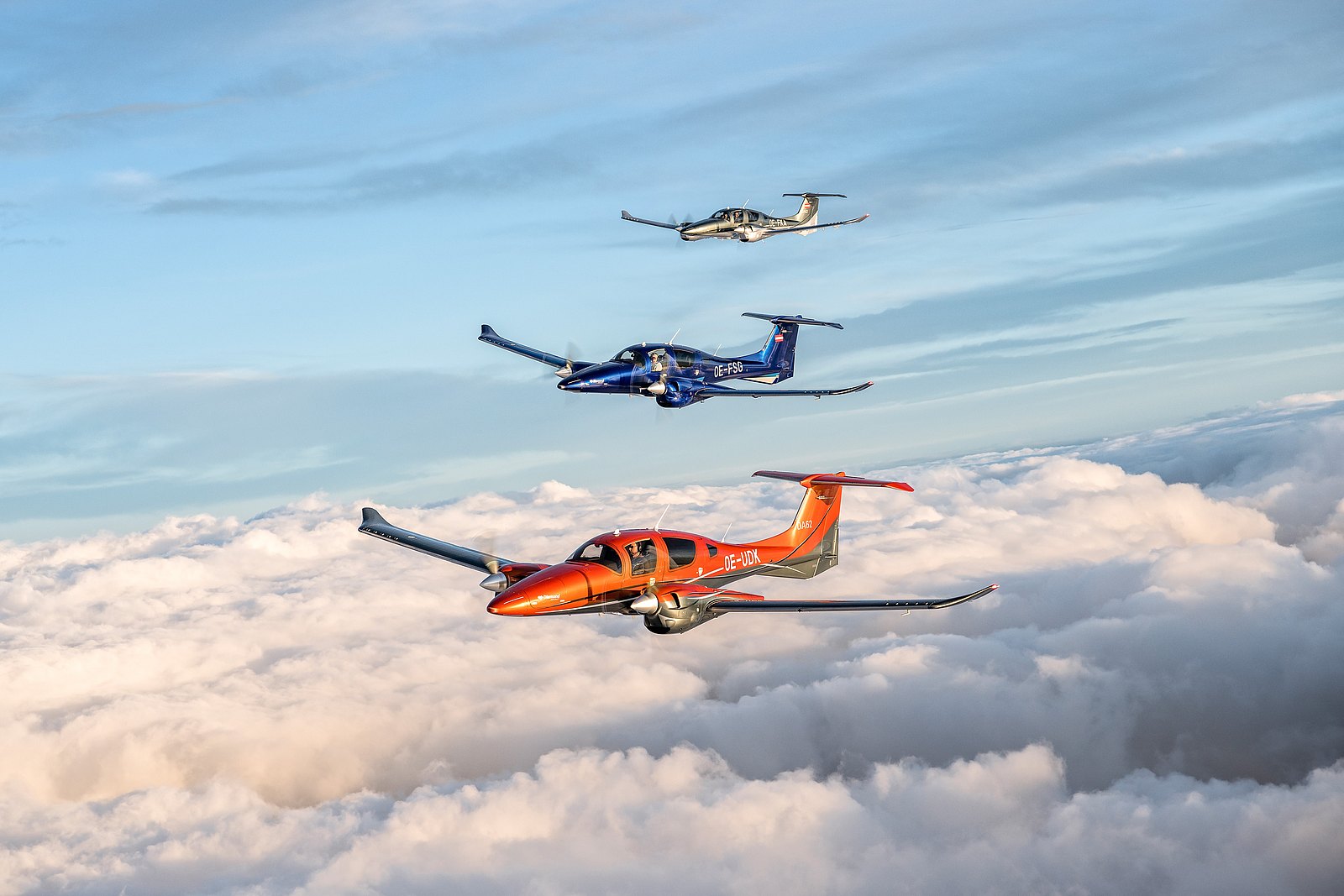 We get this question all the time: What is it really like to fly the Diamond DA62? Does it live up to the hype?
The Diamond DA62 is the modern 7-place "Luxury SUV of the Skies" you've been hearing about everywhere.  Featuring twin Jet-Fuel burning piston engines, all carbon fiber construction and fully automated FADEC technology: flying this plane truly is like flying your personal airliner.
Watch Our Video Showcasing the DA62:
Design:
The DA62 spoils pilots and passengers alike, with an extra-large cabin, generous and adjustable front seats, a 60/40 split folding three seat second row bench and optional folding two seat third row bench. Luxury features abound throughout, including premium interiors in several styles, colors and materials, LED interior lighting, optional electric air conditioning and more.
Choose from a range of exterior colors, such as ruby red, carbon, gold, sapphire blue and glossy white or design your very own DA62!
Safety:
Diamond's industry-leading safety record is the result of our commitment to protecting you and your passengers with a long list of active and passive safety features.
Active safety features help to avoid accidents in the first place, the first and most important line of defense. Passive safety features are designed to minimize the probability and degree of injury, just in case the unexpected happens.
The DA62 offers the ultimate in handling, stability and control, ease of operation as well as structural, system and propulsion redundancies, all coupled with a high degree of crashworthiness.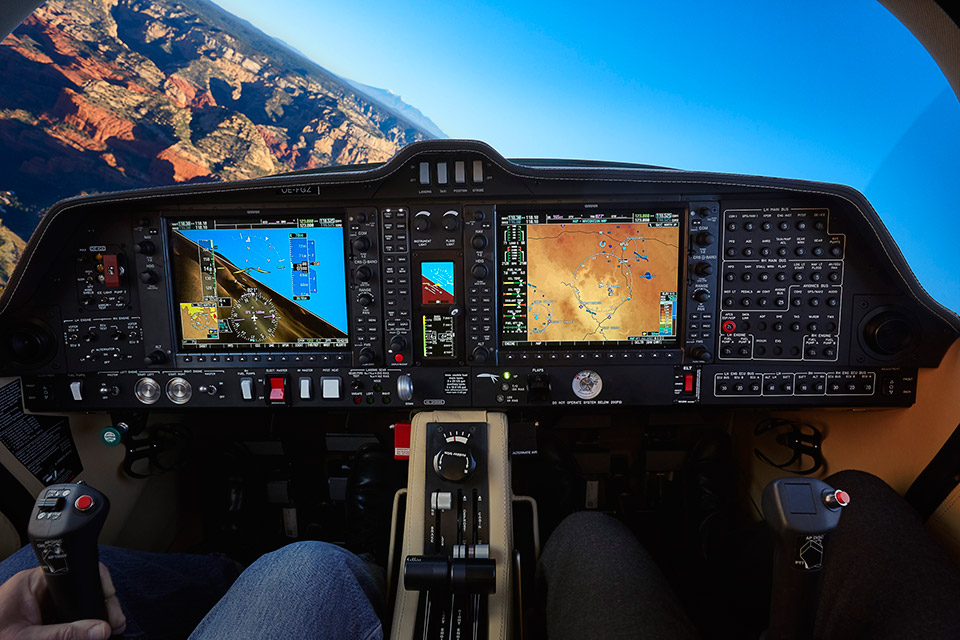 Modern Technology
The DA62 series is powered by the Austro Engine 180hp AE330 with single power lever control.
The 3 blade MT hydraulic constant speed propellers feature advanced blade geometry for efficient performance, smoothness and low noise. Automatically controlled by each engine's digital engine control – feathering is as simple as flipping a single switch.
The fully integrated Garmin G1000NXi is complemented by a long list of avionics options to perfectly suit your mission, such as an integrated weather radar and Synthetic Vision.
Learn More about the DA62 with Garmin G1000 NXi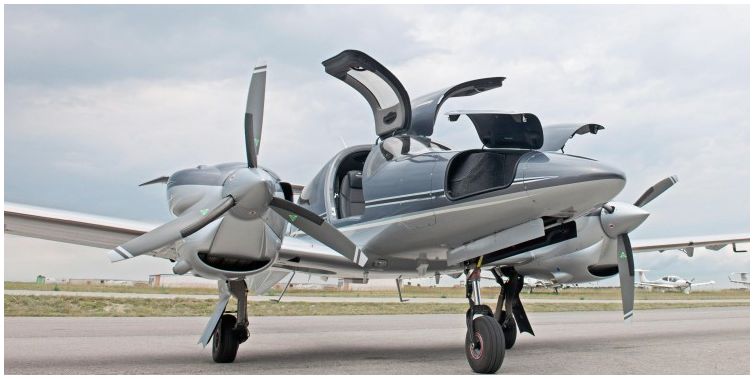 LIfeStyle Aviation has led the way in sales of the Diamond DA62 aircraft, selling and delivering the very first Diamond DA62 NXi aircraft for the US Market.  LifeStyle Aviation is now offering wide access to this new Diamond platform for flight experiences available today!
LifeStyle Aviation also offers the ultimate broad lineup of single and twin engine high-tech "modern magic carpets." From the FADEC controlled diesel engines that sip Jet-A, to ultra-safe carbon fiber airframes that defy safety statistics, to twin-engine all-weather aircraft that burn less than traditional singles while carrying the whole family, all featuring the ultimate Garmin flight deck AND with current liberal tax write-off laws in place! There has never been a better time to buy a new general aviation aircraft.
Contact LifeStyle Aviation for more information or to arrange your flight experience.
LifeStyle Aviation
LifeStyle Aviation specializes in the marketing and sale of modern personal aircraft with Diamond Aircraft being one of the company's popular brands. LifeStyle is a leading seller of new and used Diamonds in North America and also delivers aircraft worldwide. LifeStyle has invested in being the leading provider of diesel single and twin engine Jet-A piston aircraft including the DA40 NG, DA42, and the all new DA62.
LifeStyle Aviation created the LifeStyle Aviation Network that includes flight centers, aircraft brokers, affiliates and international partners to create a productive, pooled source for buying and selling modern aircraft, learning to fly, accessing shared ownership programs and transitioning from entry-level aircraft to advanced high-performance planes. The LifeStyle Aviation Network offers a wide range of quality, modern aircraft from Diamond, Piper, Mooney, Cessna, Cirrus and more. (see: LifeStyleAircraft.com)
For over a decade LifeStyle Aviation has been a leading Diamond Distributor offering new DA20 trainers, popular DA40 gas and Jet Fuel burning aircraft plus the Jet Fuel burning DA42 and the new seven place DA62 twin. LifeStyle Aviation coordinates the ongoing development of the LifeStyle Aviation Network and its Partner Flight Centers. LifeStyle Aviation is also the creator of the unique DiamondShare program (DiamondShare.com) that provides attractive shared access to modern aircraft allowing people to justify the plane of their dreams and "Make the Dollars Make Sense".