We get lots of questions about flying here at LifeStyle Aviation and we love to help pilots achieve the dream of an "Aviation LifeStyle" and the freedom and potential it brings to life.
We love to travel and use our planes to enjoy special adventures and trips on a regular basis so we've implemented a special page for our growing list of recommended flying destinations. If you already have a plane then check out these destinations pack your bags and get going!. If you are dreaming of having access to a "modern magic carpet" we hope these destinations will be a further incentive for you to get started to day to achieve your dream of an "Aviation LifeStyle".
We will be adding new additions regularly from our travels as well as from our clients and friends.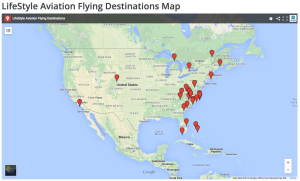 If you'd like to contribute a special destination that you believe is particularly nice and other pilots would appreciate knowing about it please let us know. All we need are the basic facts of your trip, some photos and we'll take it from there.
We request you to share this fun page with your friends through social media.
---
Lifestyle Aviation (LifeStyleAviation.com) is in the business of helping people acquire modern aircraft to achieve and enjoy an "Aviation LifeStyle". LifeStyle Aviation created the LifeStyle Aviation Network that includes flight centers, aircraft brokers, affiliates and international partners to create a productive, pooled source for buying and selling modern aircraft, learning to fly, accessing shared ownership programs and transitioning from entry level aircraft to advanced high performance planes. The LifeStyle Aviation Network offers a wide range of quality, modern aircraft from Diamond, Piper, Mooney, Cessna, Cirrus and more on LifeStyleAircraft.com.
LifeStyle Aviation also for the last 9 years has been a Diamond Regional Distribution Center (DRDC) offering new DA20 trainers, popular DA40 gas and Jet Fuel burning aircraft plus the Jet Fuel burning DA42 and the new seven place DA62 twin. LifeStyle Aviation coordinates the ongoing development of the LifeStyle Aviation Network and its Partner Flight Centers. LifeStyle Aviation is also the creator of the unique DiamondShare program (DiamondShare.com) that provides attractive shared access to modern aircraft.