Fly the new Diamond DA62!
New West Coast Tour!
LifeStyle Aviation has a 2016 DA62 delivery position available.
Acquire your Dream Plane and enjoy 2016 Tax Advantages!
The West Coast Tour Dates
Location
Dates
British Columbia

     CYPK Pitt Meadows, BC 

Nov. 6, 2016

 

Washington

     KBFI Seattle, WA

Nov. 7, 2016
Oregon

     KHIO Hillsboro, OR

Nov. 8, 2016

 

Idaho

     KBOI Boise, ID

Nov. 9, 2016
California

     KSAC McClellan, CA

Nov. 11, 2016
California

     KHWD Hayward, CA

Nov. 12, 2016
California

     KPAO Palo Alto, CA

Nov. 13, 2016
California

     KSBA Goleta, CA

Nov. 14, 2016

 
California

     KLGA Long Beach, CA

Nov. 15, 2016

 
California

     KMYF San Diego, CA

Nov. 17, 2016

 
Arizona

     KSDL Scottsdale, AZ

Nov. 18 – 19, 2016

 
or More Info: Contact a LifeStyle Aviation Counselor today: [email protected] or call 406-359-1669

The DA62, Diamond's newest Jet-A burning piston aircraft, is designed for maximum comfort and capabilities. The large cabin is designed to offer passengers comfortable seating for up to 7 and the FADEC controlled Jet-A pistons burn about half as much as gas engines. The DA62 sets new standards in general aviation for economy performance and reliability. A compelling mix of distinctive styling, consistent lightweight carbon design and superior flying qualities makes the DA62 the only choice for twin buyers and the smart choice for all modern single buyers since its burns less while providing so much more. The DA42-VI is a 4 place version that offers amazing speed, economy and range. The DA40NG provides single engine turbo charged performance on a super economical basis.
Learn more about the DA62 and Watch the Video!
Get an up close look at the DA62 from John Armstrong, LifeStyle President
Customers who have already had a DA62 demo flight, give it rave reviews!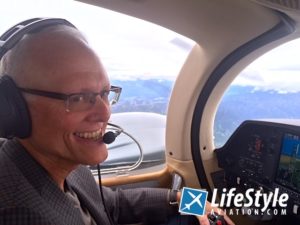 ​Jerry in California shared:
"It was love at first rotation.  Actually, I was smitten in the start-up and run-up…They are as easy to start as your car, quiet beyond comparison, and the automatic run-up is quick and simple… EVERYTHING felt solid and engineered as a BMW or Mercedes."
Contact a LifeStyle Aviation Counselor today to schedule a demo flight: 

[email protected]

 or call 406-359-1669
Lifestyle Aviation (LifeStyleAviation.com) is in the business of helping people acquire modern aircraft to achieve and enjoy an "Aviation LifeStyle". LifeStyle Aviation created the LifeStyle Aviation Network that includes flight centers, aircraft brokers, affiliates and international partners to create a productive, pooled source for buying and selling modern aircraft, learning to fly, accessing shared ownership programs and transitioning from entry level aircraft to advanced high performance planes. The LifeStyle Aviation Network offers a wide range of quality, modern aircraft from Diamond, Piper, Mooney, Cessna, Cirrus and more on LifeStyleAircraft.com.
LifeStyle Aviation also for the last 9 years has been a Diamond Regional Distribution Center (DRDC) offering new DA20 trainers, popular DA40 gas and Jet Fuel burning aircraft plus the Jet Fuel burning DA42 and the new seven place DA62 twin. LifeStyle Aviation coordinates the ongoing development of the LifeStyle Aviation Network and its Partner Flight Centers. LifeStyle Aviation is also the creator of the unique DiamondShare program (DiamondShare.com) that provides attractive shared access to modern aircraft.