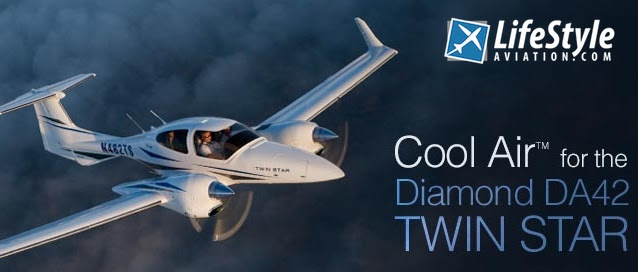 Summer was particularly hot this year. Blistering hot. Through it all we stayed COOL!
Here at LifeStyle Aviation we were busy trying out an all new, all electric air conditioning system developed for the Diamond DA42. We liked it so much we are now pleased to begin offering it immediately as an upgrade option on all our used Diamond DA42 aircraft for all our clients.
We've been offering AC on the DA40 for years and were able to offer Air Conditioning on our New DA42's for some time but everyone looking at used DA42's were dependent on high altitudes to cool off. Now we can offer a cool twin ride on the ground or in the air for all buyers.
The system is "all electric" which means there is no engine driven compressor. The system incorporates an electric motor that drives the compressor. The two main alternators drive the system so there is no need for an extra alternator either. The mechanism lives in the back small "extra boot" area of the 4-way baggage compartment. That area is not used much and is weight limited anyway so its not much of a sacrifice for the value the cool air brings to flying and traveling enjoyment.
Another great thing about this system is it's only 53 pounds total! That's fantastic and some of the best numbers we've seen. The air blows cool and strong and the controller, located on the pilot side map pocket area is a membrane digital controller that is simple, easy to use and works well. The best part, it comes on at the same setting you used the last time so we can just leave it to full blast and push the on off button.
We have been enjoying air conditioning in our Diamond DA40's for many years now and have become fully addicted. For those of you that have not enjoyed having an air conditioner on your aircraft let me simply say this…once you have one you'll never go back. We find AC great for clearing the cabin of moisture during those muggy days when you pile in and the crew fogs up the inside with condensation. This is true in the winter too!  Also for plowing through clouds IFR the AC unit makes the humidity levels much more comfortable. We are confident our clients will enjoy this great new system.
Call LifeStyle Aviation for modern aircraft including the Diamond DA42 – Now available with Air Conditioning.