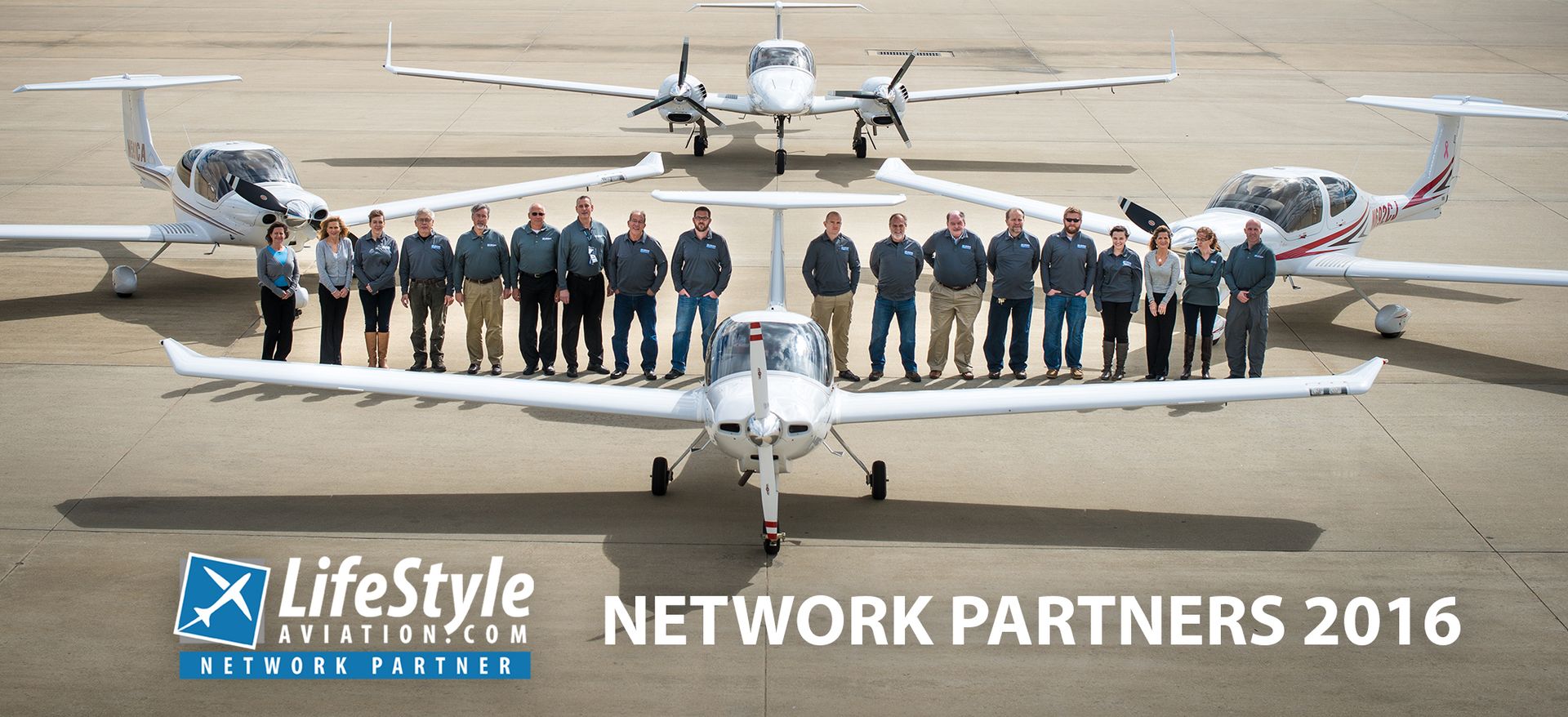 Raleigh, NC (March 14, 2016) – A group of "modern-minded" flight center principals gathered last week to further develop a unique flight center network model intent on transforming the aviation industry.
The LifeStyle Aviation Network is a network of flight centers that have joined as partners collaborating to expand access to modern aircraft training, ownership and shared access options. The focus is to help each center succeed and grow as a "Dream Center" while providing more people access to a truly modern aviation experience.
The Network was founded in 2012 and has grown quickly to over 20 Flight Centers on the East Coast. LifeStyle Aviation indicated they recently added three additional new start-up flight centers this year with plans to expand the network further in 2016.
The member flight centers, referred to as Network Partners, work together to develop and implement programs that promote access to modern aircraft while sharing best practices in operations, training and strategies for growth. The group focuses on the experience people have coming into the industry. They educate and provide exposure to modern aircraft technology and offer access to rent, own, share or leaseback modern personal aircraft. The network then supports each person to achieve their dreams and goals from trainers to high performance aircraft.
The group promotes modern aircraft so Diamond Aircraft is a popular brand. The meeting coincided with the announcement of FAA Certification for the Diamond DA62, which the group is promoting for sale via its Network Partner locations and through its DiamondShare program. The DiamondShare program provides managed access to this modern 7 place Jet-A burning twin aircraft. The group indicated the DiamondShare program has now expanded to include the DA40 NG and the DA42-VI aircraft.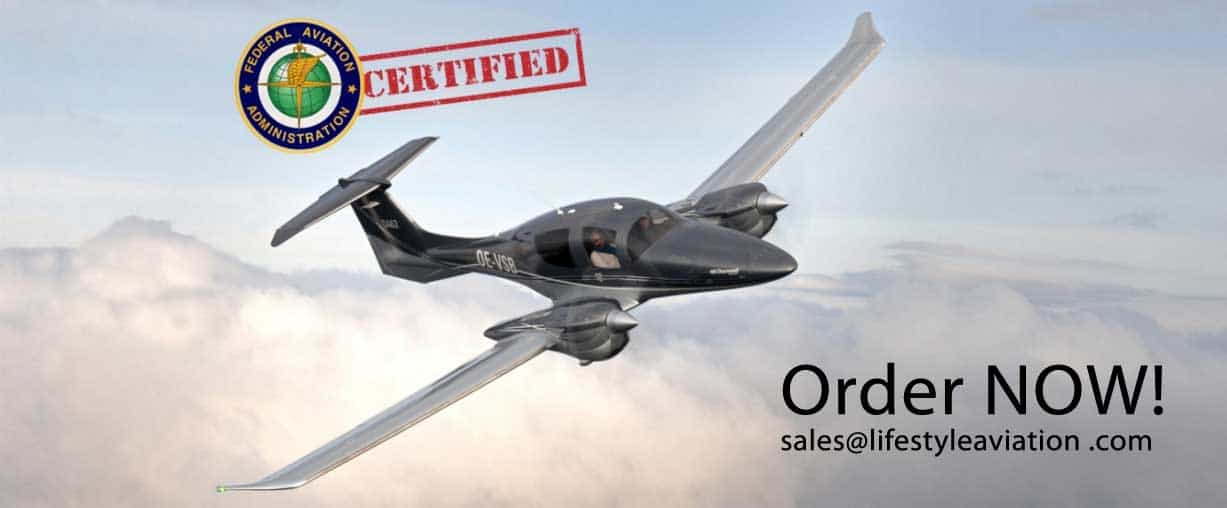 ​

LifeStyle Network Partners feature sleek glass panel Diamond Aircraft for training and also promote access to the broad selection of modern aircraft offered by LifeStyle Aviation for purchase, leaseback or shares.
"All our Network Partners are reporting growth and expansion," says John Armstrong Founder of LifeStyle Aviation. "They tell us being a part of the network contributes to their growth. Peer group support, turn key access to new ideas, ability to promote new and used modern aircraft and unique share programs and leaseback support create a competitive advantage."
"Becoming a LifeStyle Aviation Network Partner has added a new dimension to our business" stated Ryan Mayo, President of Take Flight Aviation LLC. "We are experiencing rapid growth and our clients are excited about all the new planes and programs we are now offering."
The LifeStyle Aviation Network recognized achievement and outstanding performance among the flight centers at their recent annual meeting.
The Partner of the Year Award for 2015 was presented to:
Take Flight Aviation LLC operating at the Orange County Airport in Montgomery NY serving the New York City Metro Area. Ryan Mayo, President and Corey Mayo received the award for the Take Flight Aviation Team.
(Left to Right) John Armstrong of LifeStyle Aviation presents the 2015 LifeStyle Aviation Network Partner of the Year Award to Ryan Mayo and Corey Mayo of Take Flight Aviation LLC 
"We are proud to recognize the Take Flight Aviation team for their outstanding achievement. They have worked hard and accomplished much in a short period of time. They are transforming access to modern aviation and making a significant impact in the New York City Area," stated Armstrong.
The following Network Partners were also recognized for Outstanding Achievement Awards or Special Recognition:
Alpha One Air Service; Salisbury and Concord, NC
American Aviation; Manassas, VA
Blue Line Aviation; Raleigh and Smithfield, NC
Freeflight Aviation; Medford, NJ
Gateway Aviation; Allentown, PA
Gulf Coast Premier Aviation; Ocean Springs, MS
OnCore Aviation; Rochester, NY
SouthTec Aviation; Salisbury, NC
Star Flight Training; Roanoke, VA
Take Flight Aviation; Montgomery, NY
V1 Aeronautics; Hagerstown, MD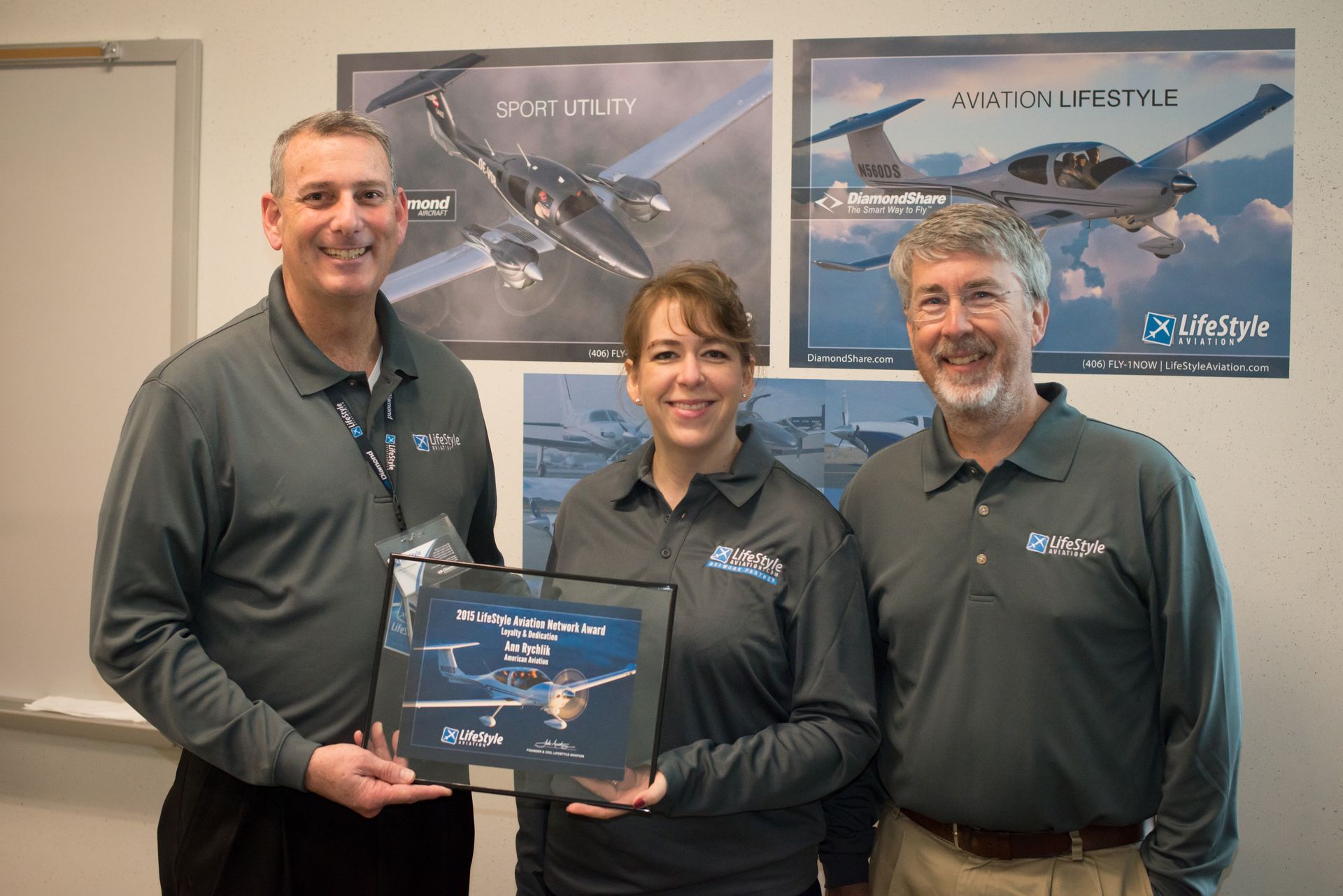 American Aviation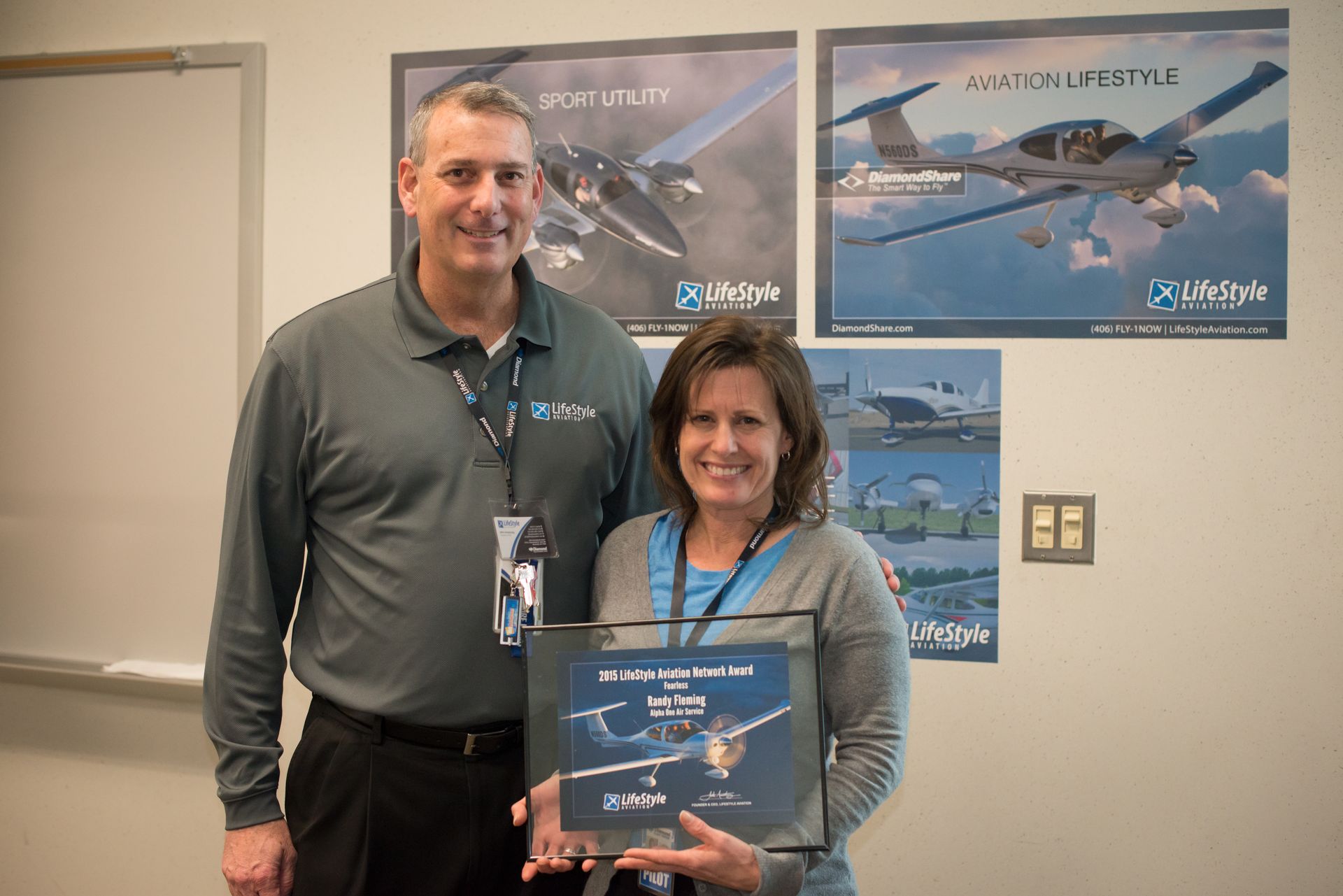 Alpha One Air Service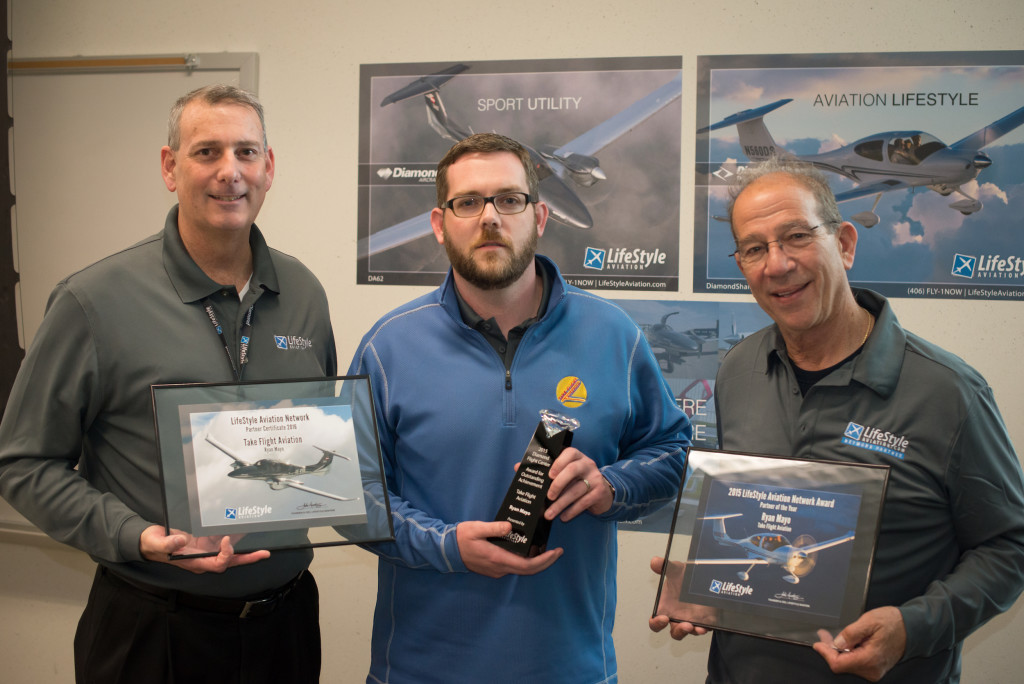 Take Flight Aviation
"Now that we have a sizable network we will be promoting more broadly to bring in new pilot candidates and to offer non-pilots more mobility and development options" added Armstrong
People considering learning to fly, buying an aircraft or just needing to find a more effective way to travel should contact LifeStyle Aviation to be introduced to all the possibilities and connected to their local Network Partner.
Lifestyle Aviation (LifeStyleAviation.com) is in the business of helping people acquire modern aircraft to achieve and enjoy an "Aviation LifeStyle". LifeStyle Aviation created the LifeStyle Aviation Network that includes flight centers, aircraft brokers, affiliates and international partners to create a productive, pooled source for buying and selling modern aircraft, learning to fly, accessing shared ownership programs and transitioning from entry level aircraft to advanced high performance planes. The LifeStyle Aviation Network offers a wide range of quality, modern aircraft from Diamond, Piper, Mooney, Cessna, Cirrus and more. (see: LifeStyleAircraft.com)
For nearly a decade LifeStyle Aviation has been a Diamond Regional Distribution Center (DRDC) offering new DA20 trainers, popular DA40 gas and Jet Fuel burning aircraft plus the Jet Fuel burning DA42 and the new seven place DA62 twin. LifeStyle Aviation coordinates the ongoing development of the LifeStyle Aviation Network and its Partner Flight Centers. LifeStyle Aviation is also the creator of the unique DiamondShare program (DiamondShare.com) that provides attractive shared access to modern aircraft allowing people to justify the plane of their dreams and "Make the Dollars Make Sense".