DA42 For Sale: Simply the BEST Equipped DA42 TDI Available.  New 2100 Hour TBR Engines with Warranty, Platinum Leather Interior, Long Range Tanks, TKS (FIKI), Oxygen, XM Weather, ADS-B, WAAS, Garmin GFC700 Auto Pilot with vNav, Synthetic Vision,  and More! A must see aircraft for serious DA42 buyers.
LifeStyle aviation is proud to introduce you to N42T, a fully loaded DA42 TDI aircraft. Make sure you view the detailed specs and photos of this remarkable aircraft.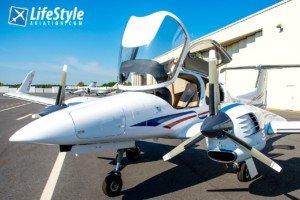 It's not often that we see the combination of New 2100 Hour TBR Engines, remaining warranty, one owner always hangared history, aligned with an aircraft that has gone through such extensive upgrade installations. This plane is ideal to keep and enjoy as a long-term travel solution for business or family travel.
This aircraft is available for viewing and Demonstration Flights at our Raleigh Durham International Airport headquarters (KRDU). Our team of knowledgeable counselors can help you consider this aircraft type to meet your needs. 
Contact us online or by phone today at 406-FLY-1NOW / 406.359.1669 
---
Lifestyle Aviation (LifeStyleAviation.com) is a US-based aviation marketing organization that is in the business of helping people achieve and enjoy an "Aviation LifeStyle" through modern personal aircraft. The organization is comprised of several components:
LifeStyle Aviation offers a wide range of quality, modern aircraft from Diamond, Piper, Mooney, Cessna, Cirrus and more via its listing site LifeStyleAircraft.com. In addition, LifeStyle Aviation is a leading offering a full range of new and used Diamond Aircraft including entry level DA20 and DA40's and high-performance Jet-fuel burning DA42-VI's and the all new DA62 7 place 200kt aircraft.
The LifeStyle Aviation Network includes flight centers, aircraft brokers, industry affiliates and international partners to create a productive, pooled source for buying and selling modern aircraft, learning to fly, accessing shared ownership programs and transitioning from entry-level aircraft into advance high-performance planes.
– LifeStyle Aviation is also the creator of the unique DiamondShare program (DiamondShare.com) that provides attractive shared "member access" to modern aircraft while completely changing aircraft ownership economics.