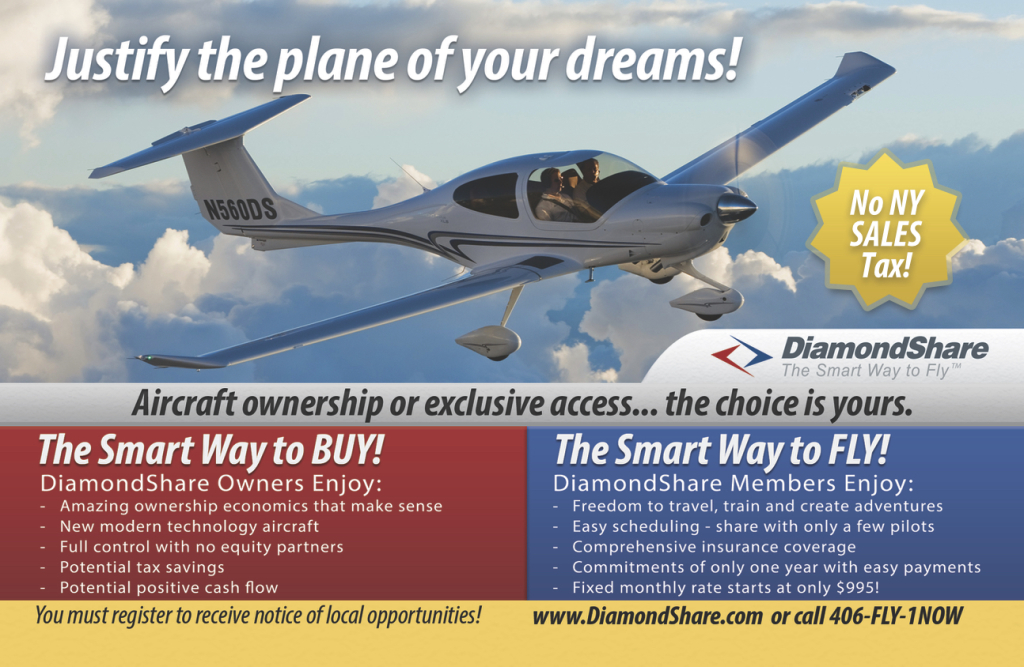 Attend the DiamondShare Event August 28 at Westchester County Airport (KHPN)
The popular DiamondShare program has expanded to include DA42s and DA40 Jet-A Aircraft!  Want to learn more about aircraft ownership and membership in the DiamondShare program?  Come out to our FREE DiamondShare event!  Learn about DiamondShare and the No Sales Tax Celebration Sale!
Where

Landmark Aviation West Ramp
67 Tower Rd
White Plains, NY 10604

When

August 28, 2015

From 3:00 pm – 7:30 pm

3:00 – 6:00 Aircraft Viewing

6:00 – 7:30 DiamondShare Briefing
More Details:

This event is sponsored by  
LifeStyle Aviation
 and will focus on the newly expanded and revolutionary DiamondShare program and the No Sales Tax in NY special going on now.  We will be showcasing our Diamond DA40 and DA42 aircraft.  At 6:00pm will will have an informational meeting about the revolutionary DiamondShare program. In addition LifeStyle will be promoting their entire inventory of aircraft (See 
LifeStyleAircraft.com
) including Piper, Mooney, Columbia, Cirrus, Diamond and More now with FREE Delivery and NO SALES TAX for a limited time only.
No Pressure. No Bull. Good Information. Real Opportunities
. 
REGISTER NOW TO ATTEND

Learn more about:
Diamond DA40 XLT
 and All New 
Jet-Fuel Burning Turbo DA40 NG
Diamond DA42-VI Jet-Fuel Burning Turbo Twin Speedster
If you can't make our special private showing and briefing come out to the big NY Airshow and see us there.
See the DA40 and DA20 aircraft at the NY Air Show!  LifeStyle Aviation will also be at the NY Air Show August 29 & 30 at Stewart International Airport.