Diamond Moves Ahead With Hybrid Drive
AV Web Article By Paul Bertorelli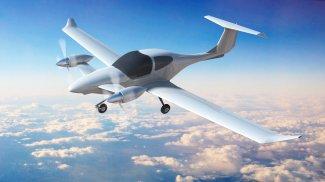 Diamond Aircraft's Austria headquarters is well along with a third-generation hybrid-drive electric aircraft design that it hopes will serve as a certification template for future electric aircraft. The new airplane is based on a DA40 composite airframe, but rather than a geared conventional prop driven by a diesel engine, the aircraft will have a single Austro AE300 diesel driving a generator to power a pair of small, high-output electric motors mounted on a canard. Diamond CEO Christian Dries toldAVweb that the company is partnering for a third time with Siemens AG, the large German electrical conglomerate, to produce a workable hybrid drive. 
It's the third such project Diamond has undertaken with both Siemens and EADs. In 2011, the company developed its first hybrid-drive concept and in 2013, it flew a proof-of-concept hybrid drive in an HK36 motorglider that it dubbed the E-Star. That aircraft, which accumulated about 20 test hours, also had a Siemens motor and generator, but a rotary powerplant rather than the diesel planned for the second project. "This airplane is based on serial production technology. Most likely this airplane will not come on the market, but this is a so-called certifiable program. That means in this airplane, we help the authorities set the standards for electric airplanes," Dries said. 
He said Siemens is providing two electric motors that each weigh less than 30 pounds but deliver 85 kw or 114 hp. The aircraft will use some 200 kg (440 pounds) of lithium ion batteries where the backseat would normally be, so it will be limited to two occupants. Dries says at typical cruise speeds of 110 to 120 knots, the airplane would have 10 hours of endurance, burning 6 to 7 liters (1.8 gallons) per hour. "Our first assumption, at the same speed, we have approximately 30 percent more efficiency; 30 percent less fuel at the same speed," Dries said of the hybrid design. 
"The main problem is always the batteries and not just the batteries by themselves, but also how to adjust the powerflow. If you have 200 lithium ion batteries, then a part of it is overheated or doesn't work. You have to reduce the power from this part and still continue with the rest," Dries said, adding that battery management and power control was the most challenging part of its first hybrid-drive project. 
Dries said the time frame for the project depends on EASA, but Diamond is hoping for a completed test program within two to three years. Dries see wide civil application. "This technology will allow us to develop airplanes that are slightly different from everything we know now. For example, tilt rotor airplanes that will have the possibility of vertical takeoff, but can also fly at very high speed," Dries explained.