FOR IMMEDIATE RELEASE
The DA50 RG is on US Tour with 8 Western city stops in August and September 2023. Pilots and buyers can see and experience this new aircraft.  
Limited demonstration flights available.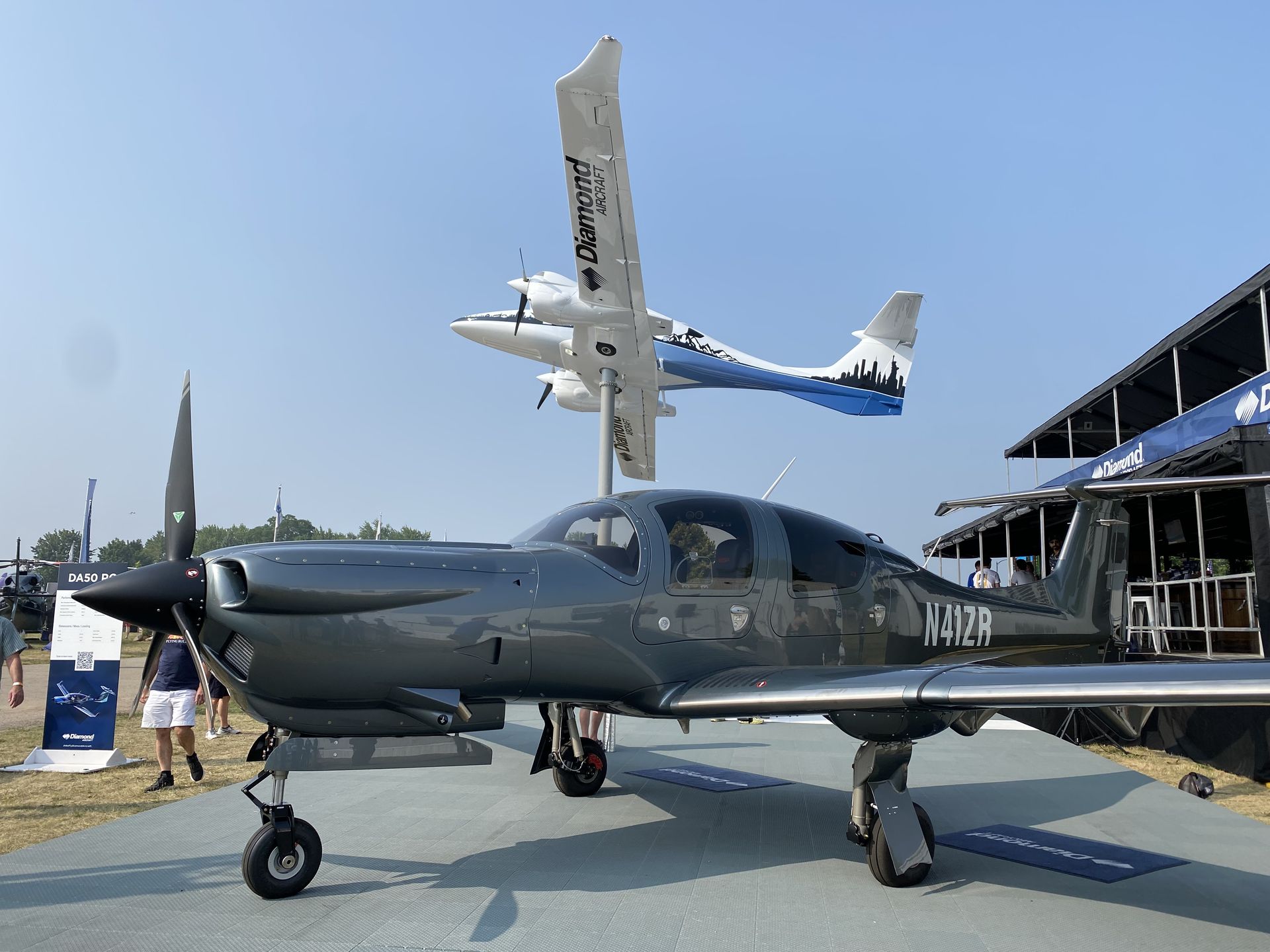 RALEIGH, N.C. -- The new Jet-A burning retractable gear Diamond DA50 RG is now FAA Certified and on tour in the Western United States. Tour stops include Denver, Phoenix, Las Vegas, Los Angeles, Reno, San Francisco, Portland and Seattle in August and September 2023.
LifeStyle Aviation, the largest selling Diamond distributor, is conducting the tour through the Western US states. The DA50 Western tour kicks off August 26th in Denver with 7 stops in  western cities with the final stop in Seattle at the end of September.  All tour dates, locations,  registration, aircraft information and request for demo flight access are at: Events | LifeStyle Aviation.
The FAA presented Diamond Aircraft the long awaited validation certificate for the Diamond DA50 RG Jet-A fueled single engine aircraft at EAA Airventure 2023.  This certification opens the floodgates for deliveries to begin to the US market. The Diamond DA50 RG has been certified in Europe since late 2020 and LifeStyle Aviation has been taking orders for the aircraft for US delivery since Airventure 2022 pending the FA validation. The 5 place DA50 RG is the single engine version of the ultra popular Diamond DA62 - 7 place twin engine aircraft. The plane is a proven aircraft that has been flying around the world in many places for the last two years and now US customers will finally be able to take delivery and enjoy this amazing new aircraft. 
"The response from the market has been remarkable," stated John Armstrong, Founder and CEO of LifeStyle Aviation. "People are raving about the way the plane looks, its impressive ramp presence and sleek airborne silhouette. The DA50 is the coolest new aircraft introduced to General Aviation since the certification of the Diamond DA62 and we are thrilled to be bringing it to market with deliveries beginning this quarter."
The DA50 RG is definitely not a "me too look alike" aircraft but a unique creation that people will aspire to own. With its large comfortable 5 place cabin, 6 cylinder computer controlled, liquid cooled, twin turbo-charged Jet-A compression (diesel) engine, retractable trailing-link landing gear, large gull-wing doors, winglets and large three blade composite prop this aircraft has an American "Muscle Car" appeal combined with an ultra-refined European flair. Also appealing to more buyers is the fact that it is computer controlled, ultra-efficient, and burns lower-cost Jet-A vs not-leaded AvGas due to the continued industry battle over leaded AvGas availability, environmental impacts and health concerns. 
Another unique characteristic of the DA50 is that it allows buyers to start with a single engine aircraft and when more range or load are needed, they can seamlessly upgrade to the twin engine DA62 version of the same plane. With the addition of the DA50 the Diamond line is truly unprecedented in providing customer choice: with a two-place trainer DA20, four-place diesel single and twin DA40/DA42, a five-place DA50 and a seven-place DA62.  
LifeStyle Aviation provides turn-key sales, importation, delivery and customized transition training for new clients to help them have a great new aircraft buying experience. The company encourages those that can't make it to one of the tour stops to reach out to receive more information regarding the Diamond line and to receive future notices of events and demo flight opportunities. 
--
About LifeStyle Aviation
LifeStyle Aviation specializes in the marketing and sale of modern personal aircraft with Diamond Aircraft being one of the company's most popular brands. 
LifeStyle is the leading seller of new and used Diamonds in North America and also delivers aircraft worldwide. The company has invested in being the leading provider of diesel single and twin-engine jet-A piston aircraft, including the DA40 NG, DA42, and the all-new DA62 and now the latest addition the DA50 RG. LifeStyle Aviation also created the unique DiamondShare program (DiamondShare.com) that provides attractive shared access to modern aircraft, allowing people to justify the plane of their dreams and "Make the Dollars Make Sense."
LifeStyle Aviation created the LifeStyle Aviation Network that includes flight centers, affiliates and international partners to create a productive, pooled source for buying and selling modern aircraft, facilitating flight center development, accessing shared ownership programs and transitioning from entry-level aircraft to advanced high-performance planes. The LifeStyle Aviation Network offers a wide range of quality, modern aircraft from Diamond, ICON, Cirrus, Mooney, Cessna, Piper, and more.
For more information about LifeStyle Aviation, visit www.lifestyleaviation.com


About Diamond Aircraft
Diamond Aircraft, headquartered in Austria with facilities in Canada and China, is among the leading aircraft manufacturers in General Aviation. Founded in 1981, Diamond has pioneered many aviation firsts and achieved numerous milestones and industry expert accolades.
Today, Diamond Aircraft has more than 1,000 employees worldwide and offers the most complete range of certified piston aircraft models: from the 2 seat single DA20 to the stunning 7 seat DA62. With its complete line of piston aircraft including a dedicated flight training concept with Single Engine Piston (DA40 NG, DA40XLT) and Multi Engine Piston (DA42-VI, DA42-L360) trainers, along with type-specific flight training simulators and its own modern engines, Diamond Aircraft is the only sole source provider in the fleet training market.
Diamond Aircraft also made a footprint in the special mission market with the remote sensing turnkey solutions DA42 MPP and DA62 MPP and the soon to be certified aerobatic turboprop tandem trainer series DART. Diamond Aircraft uses proprietary lead-free jet fuel piston engines, made by Austro Engine GmbH (a 100% subsidiary of Diamond Aircraft Austria), for the DA40NG, DA42-VI and DA62. Every one of Diamond's aircraft shares a common DNA; incorporating leading edge technology, not for the sake of innovation, but for superior performance, efficiency and safety. Over 5,000 Diamond airplanes are flown by private pilots, professional flight training operators and institutions worldwide.
For more information, visit Diamond's newsroom at www.diamondaircraft.com/en/about-diamond/newsroom, contact the Media Relations department at [email protected], or follow us at facebook.com/diamondaircraftind, instagram.com/diamondaircraftind, or youtube.com/DiamondAircraftMedia.


###
Contact:
Patrick Meehan
Marketing Director
LifeStyle Aviation
[email protected]
406-359-1669